Infrastructure
Lessen the Amount of Standing Water Within the District
Activity #1: Identify priority areas where there is standing water or flooding issues.
Activity #2: Increase awareness around existing resources (for example, sump pump disconnect – pushes water back or the backflow program –stops water from coming in) and community-driven strategies (for example,  adopt a catch basin program, install a rain barrel).
Activity #3: Collaborate with MSD to request assessments and leverage funds by combining projects with Public Works to ensure a more meaningful impact.
Resources You Can Use Now: 
Metro Call: 311 or  502.574.5000

MSD: 502.587.0603

Louisville Health Department: 502.574.6650 (Mosquito prevention)

 
Reduce the Number of Non-Delivery Tractor-Trailer Trucks on Residential Roads
Activity #1: Increase public awareness around tracking of non-delivery tractor-trailer trucks on residential roads (what information is needed and where to report).
Activity #2: Promote the existing community proposed South End truck route and signage to stakeholders, Kentucky Trucking Association, and area businesses.
Activity #3: Seek feedback from and collaborate with community stakeholders, The Kentucky Trucking Association, area businesses, and KIPDA on the existing proposed South End truck route toward the creation of a Metro ordinance.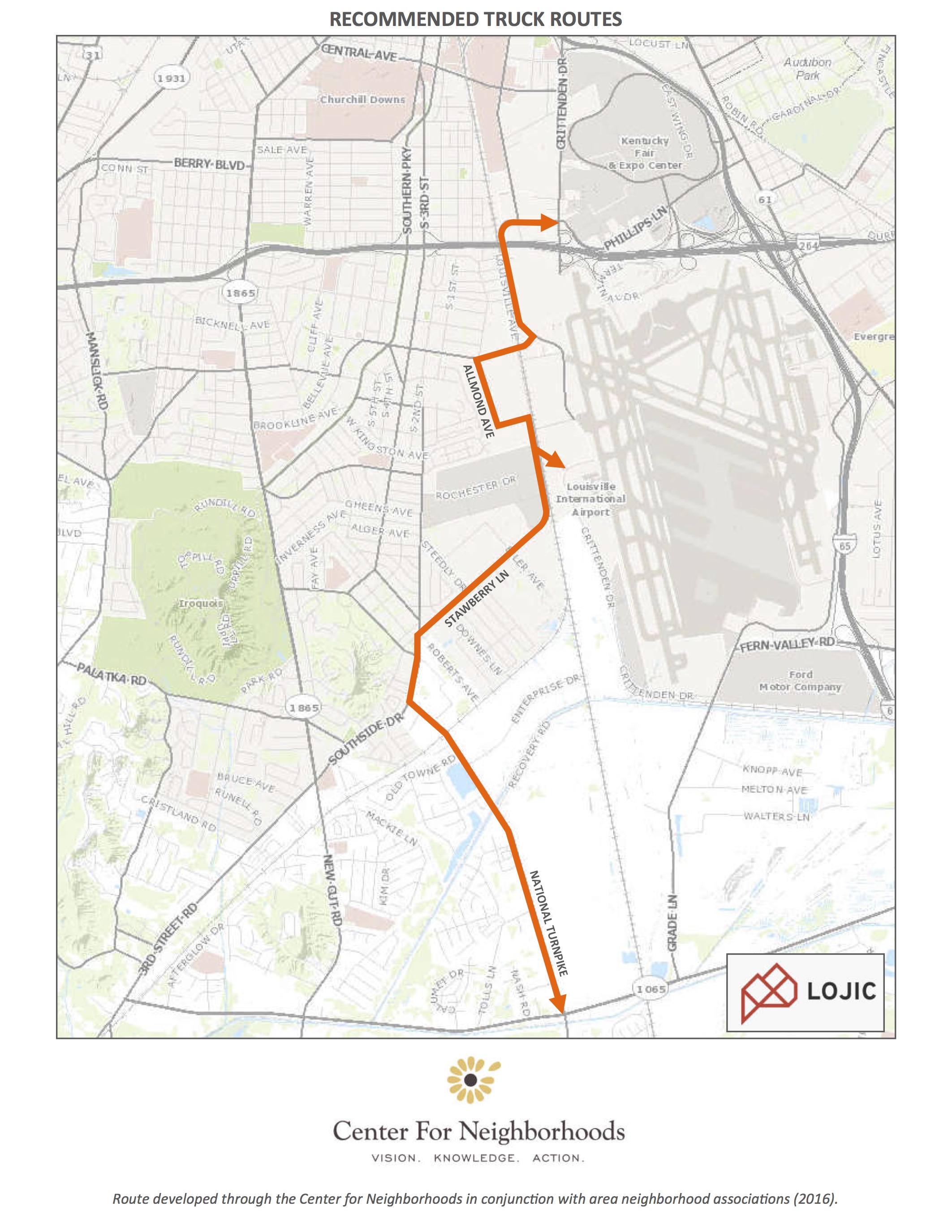 Minimize Airport Noise for Residents
Activity #1: Increase public awareness of the current noise assessment (2015), including opportunities for those living in areas with noise over 65 decibels.
Activity #2: Promote advocacy groups, such as the Airport Neighbor's Alliance, proposed state and federal legislation ( for example: KY tax legislation for sound insulation or HR 3938 Air Traffic Noise and Pollution Expert Consensus Act), and mechanisms for voicing concerns directly to Louisville International Airport.
Activity #3: Develop a strong relationship between the Airport Authority and the District 21.
Resources you can use now:
Airport Noise Officer: Bob Slattery 502.363.8516
Reduce the Presence of Litter and Illegal Dumping to advance the natural environment
Activity #1: Encourage implementing a community-lead "Adopt a Hotspot" program.
Activity #2: Identify areas needing waste receptacles and/or more frequent trash pickups.
Activity #3: Partner with Brightside, Metro Parks, and schools to reduce litter and illegal dumping through the promotion of positive messaging on signage and the creation of uniquely designed trash receptacles to encourage use. 
Resources You Can Use Now:
Increase Community Investment in Vacant Housing
Activity #1: Continue conducting an assessment identifying vacant property and categorizing its status (for example, foreclosure, death of owner, abandonment)
Activity #2: Collaborate with Jefferson County Circuit Court Commissioner, PVA, Louisville Forward, and community stakeholders to identify challenges and best practices for addressing vacant housing.
Activity #3: Organize a district-wide vacant housing summit to increase community interest, knowledge, and empowerment to enable community members to better advocate for vacant property maintenance and homeownership.