Community Resident Endorsements
Wade Prather, Edgewood Resident and IBEW Member
"For me, that Nicole fights for the teachers by standing up with them in Frankfort, the way she supports working people, and her plans to work with the flooding issues here in Edgewood makes her the only choice in the Metro Council 21 race. I encourage everyone to vote for Nicole George on May 22nd!"
Mckinley Archie, Beechmont Resident, Teamsters 89 Member
We have an opportunity here in 2018 to have a new start in District 21. I am here to endorse my friend, a friend of labor,  a friend of the people, Nicole George.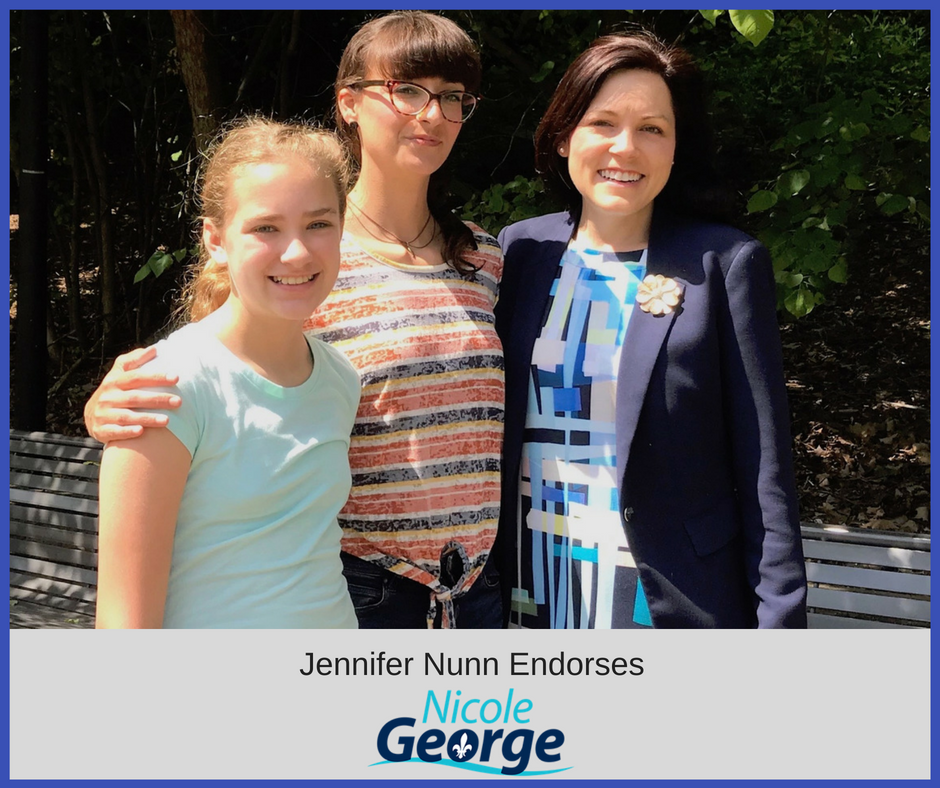 Jennifer Nunn, Southend Resident, Community Organizer
"Metro Council District 21 neighbors my district,  and I've seen first hand how working together effectively or not can have impacts from one district to the next.
I've had the pleasure of working with Nicole George on a couple of projects and I hope to work with her many more times. She is so incredibly thoughtful and organized. When she says she has a plan you can count on that she's done the research and considered how it affects the area's most vulnerable people.
I would not think twice about voting for her if I could. I believe Nicole George can do the work in a way that it connects with and benefits District 15. Tell your District 21 friends to vote for Nicole George!"
Donald and Paul Taylor, Beechmont Residents, Small Business owners
"I support Nicole to serve as our Councilwoman for many reasons. She's intelligent, pragmatic, visionary, compassionate and passionate about serving the south end.

Of these many reasons, the most important to me, as a single dad, entrepreneur and active citizen in the Beechmont Neighborhood, is her passion about the success of local businesses, families and individuals. I have seen her look at root causes and identify long-term solutions to ensure all families have a safe, healthy and happy community in which to live and thrive."– Donald Taylor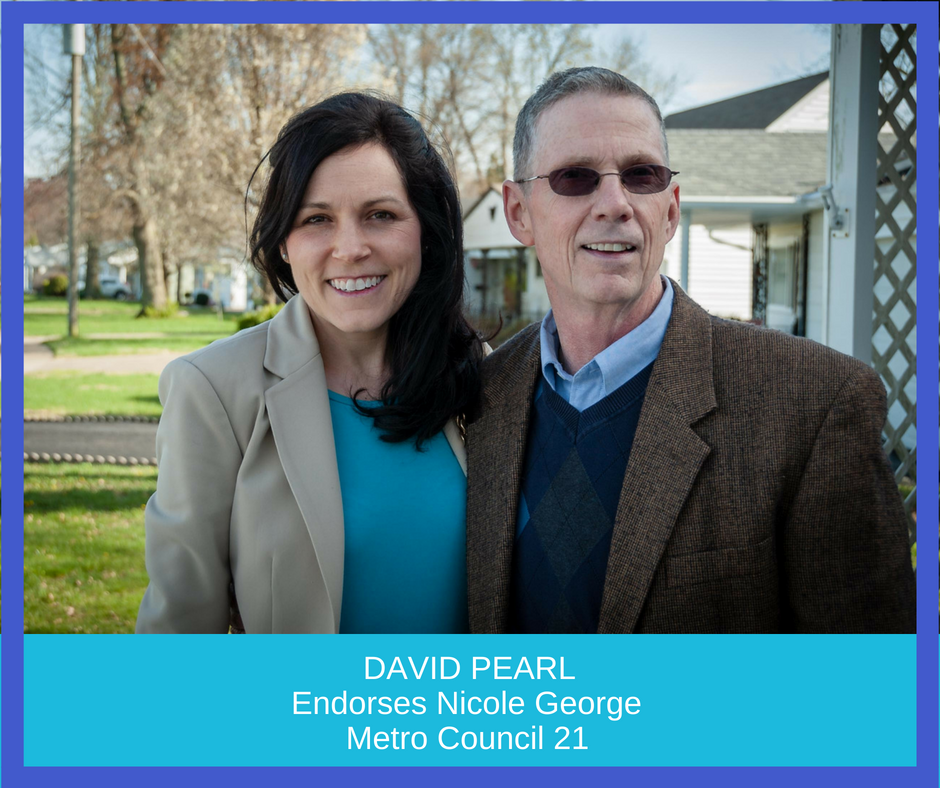 David Pearl, Lynnview Resident
"Impassioned and Informed. A strong leader with a can-do attitude. A distinct vision of where we are and what we can be. A listener and hard worker. Not afraid to challenge status-quo and a strong voice for us all. Combined qualities that will merge visions of our youth and our seniors to achieve even greater good for District 21. Louisville, this candidate should be your choice for our next district 21 council representative!"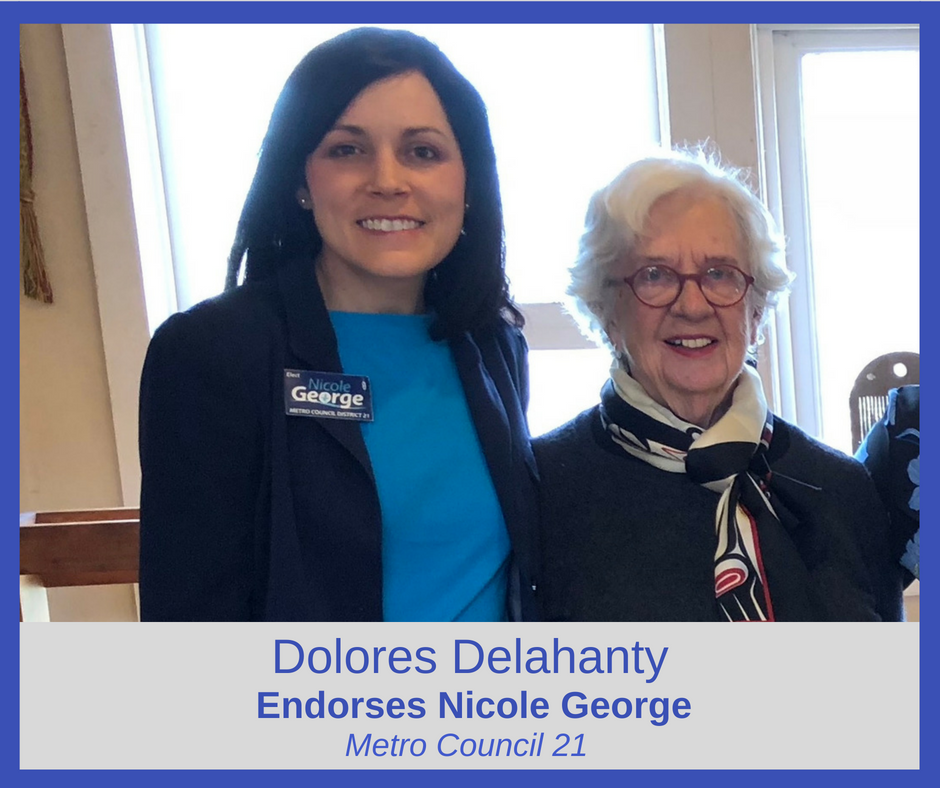 Dolores Delahanty Southend Resident, Social Worker and Community Leader
"I am so pleased to join the National Association of Social WorkersKentucky Chapter, in their endorsement of Nicole George for Metro Council District 21. Nicole will be a dedicated public servant!" –– Dolores Delahanty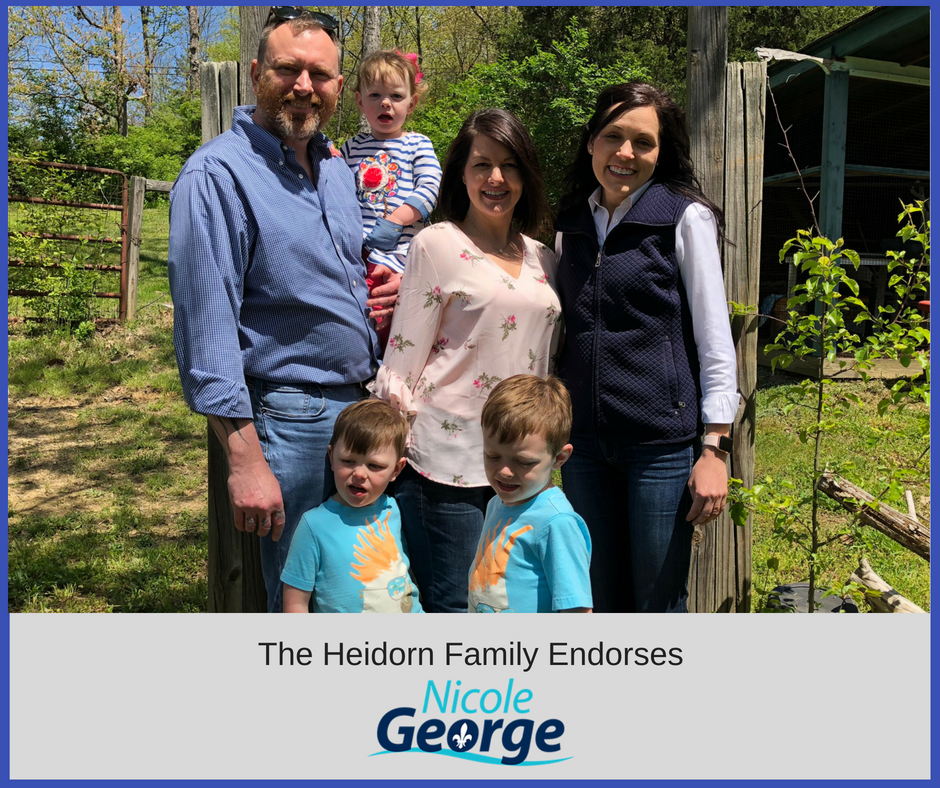 The Heidorn family supports Nicole George because of her incredible work ethic and persistence to improve our area. We see her actively involved in zoning, neighborhood association, and helping people resolve issues that are effecting us right now. Nicole is the real deal, hard work and commitment.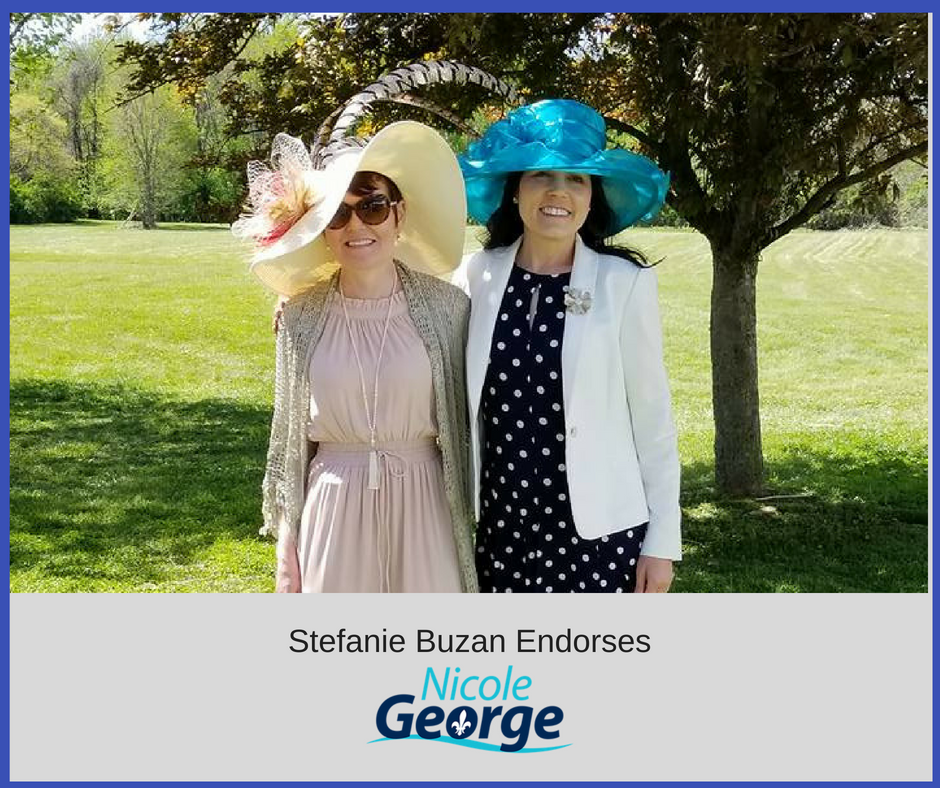 Stefanie Buzan, Kenwood Hill Resident, Community Leader
"I have waited a long time to see someone hardworking, intelligent, and professional run for the 21st District Council seat. Nicole George is that person and has my full support."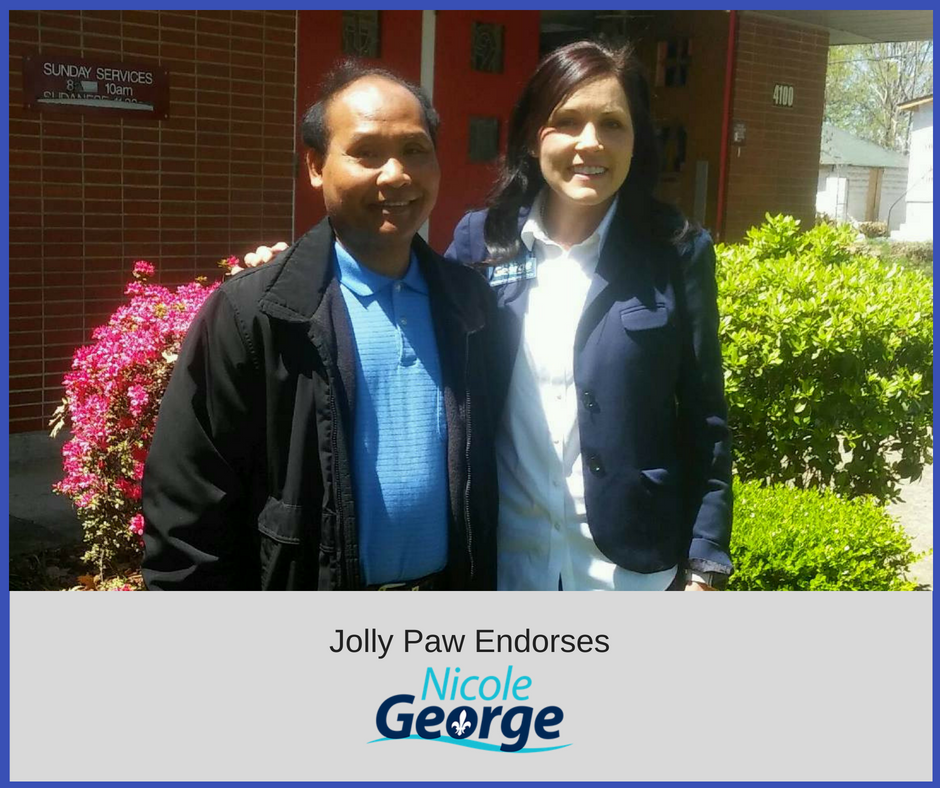 Jolly Paw, Beechmont Resident
"As an immigrant and New voter, I am proud to stand with Nicole George."

Rosemary McCandless, Iroquois Resident
"I am a retired Jefferson County teacher. I strongly endorse Nicole George for District 21 Metro Council. In the last year I have seen her at numerous meetings and events around the district. Nicole has educated herself on the needs of our community and is enthusiastic about serving our area.

Nicole brings a rich background in social work that has enabled her to see and understand the concerns facing all of us. Nicole is a kind and caring person who wants to make a difference and she will listen and work with us to improve our district. Please join me and vote for Nicole George in the primary election in May and the general election in November."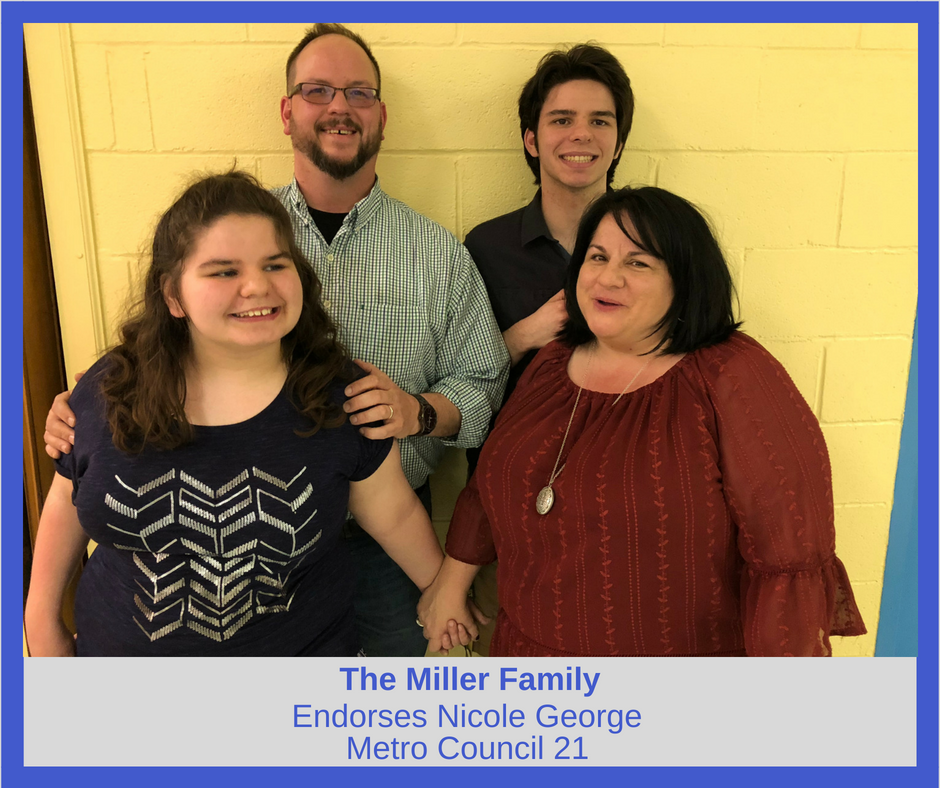 The Miller Family, Iroquois Residents
"We support Nicole because she's had a career dedicated to serving the children and families in our community. Bill's a union member and I work in social services for the disabled, a field dear to my heart. We have two teenagers, one with multiple disabilities, and we know that a candidate like Nicole has their interests in mind and will work for their futures. She is smart, caring and passionate about helping people and the families of the south end and we are looking forward to having her as our councilperson in District 21" –– Susan Miller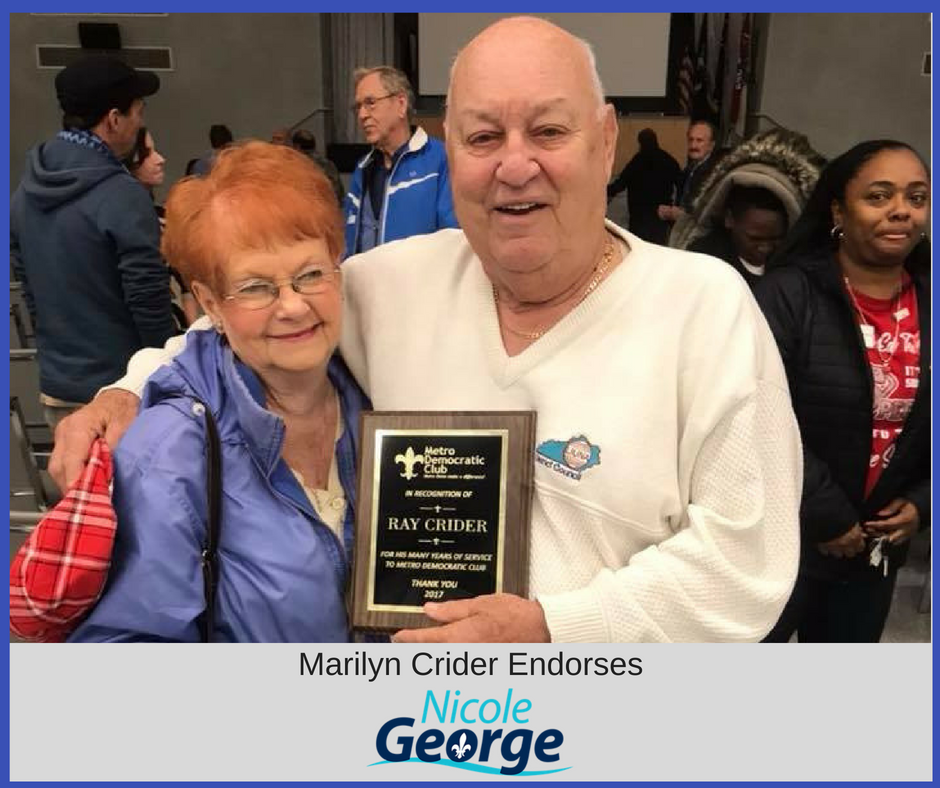 Marilyn Crider, Southend Resident
Nicole George is one of the brightest and best candidates to run in the Southend in recent years. Ray would be so proud of her in how she ran her campaign for Metro District 21!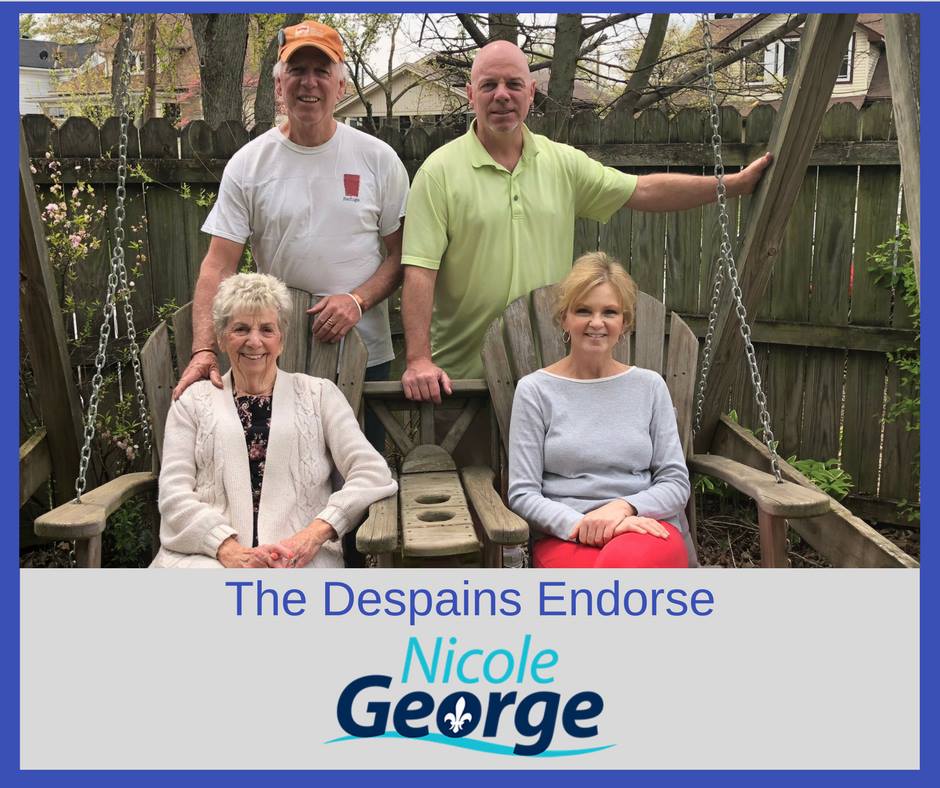 The DeSpains, Iroquois, Beechmont and Southend Residents
"For so long, this district hasn't had effective representation. It is exciting to be supporting Nicole, who has detailed plans and is ready to put them into action!" ––Louise, Marcie, Paul and Dan Despain

Voncile Ellison, Beechmont Resident
"I am honored to endorse Nicole George for District 21 Metro Council. She truly cares about the problems in our District and works tirelessly to improve the community and the lives of people who live here. After meeting Nicole I was amazed by her energy, vitality, and "can do" attitude. Nicole takes a person's issues and makes it her own. She has the knowledge, ability, and compassion to represent us well."